October 12, 2019 by Sean Ostruszka | FLWFishing.com
"Did that just really happen?"
That's all Dylan Hays kept saying over and over as he walked off the weigh-in stage, seemingly in disbelief of what had transpired at the end of his day. But yes, Hays, as fairytale as it was, it did just really happen.
After grinding all week, the FLW Tour pro from Arkansas' entire tournament came down to his very last cast on Saturday, as he stuck a 4-pound-plus kicker that ended up sealing victory at the Costa FLW Series Central Division finale on Lake of the Ozarks presented by Evinrude.
"That is the most important bite of my life right now," says Hays of that kicker, which pushed his final-day bag to 14-6, giving him 43-14 total and the win by 7 ounces over fellow pro James Watson. "It's been a long time coming. I've had a lot of top 10s, not getting it done. I finally did it."
Setting the scene, Hays actually had a decent final day. He'd only been catching six keepers a day the previous two days focusing on brush, docks and the combination of both, but Saturday he caught eight. Problem is, he never had a big bite, and with 20 minutes left his bag only weighed about 11 pounds. That's when circumstances and fate intervened.
Hays was about to move to one of his two main areas, but a look down at his watch confirmed he wouldn't have much fishing time if he did. That's when he remembered a "sneaky" brush pile nearby in about 15 feet. He hadn't caught anything off it all week, but he had in the past.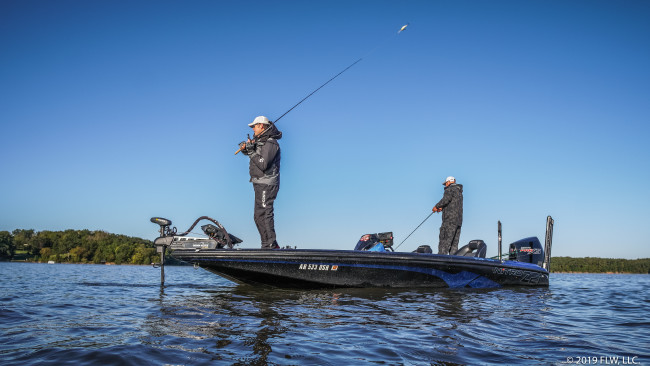 "I'm throwing my football jig around, and I broke it off with 3 minutes to go," says Hays. "So I said 'I guess I'm going to throw a crankbait for three minutes.' I threw it and threw it, and I said 'one more cast,' and I knew I hit [the brush pile] good. It came over that brush, and it just ate it.
"My co-angler netted it, and it came off in the net. I threw it in the livewell, pulled my small fish out. The crankbait is still in the net on the floor. I strapped the rods down, pulled the trolling motor up and checked in at 2:29:36. You cannot make that up!"
While the winning fish ate a Strike King 6XD in blue herring, the vast majority of Hays' weight all week came on the football jig, a ¾-ounce Jewel Football jig in peanut butter jelly with a green pumpkin Zoom Super Speed Craw trailer.
After a tough practice, Hays committed himself to tossing that jig, focusing on the area near takeoff to maximize hitting as many docks and brush piles as he could. Some were in 4 feet of water, and some in 20, but his best ones seemed to be in the 10-15 foot range.
His plan didn't amount to much on day one, but more than 17 pounds on day two jumped him into the top 10. And today, the sequence of events at the end proved just enough to finally get him his first major victory.
"This is one of my favorite lakes," says Hays. "I like highland lakes. I understand them. I didn't think I was going to win, though. There's too many good guys here who fish all the time.
"But, I knew I had a good opportunity [to eventually get a significant win] if I kept knocking at the door, and it finally happened."
Read More on FLWFishing.com