October 29, 2017  by Curtis Niedermier
Despite its impressive productivity throughout the season, 162,000-acre Kentucky Lake can be a tough fishery to unlock come fall, particularly when "typical autumn" weather is temporarily replaced by the season's first frost and near-freezing temperatures.
I have this in mind when I meet Arkansas pro Dylan Hays in New Johnsonville, Tenn., on the second chilly day of practice for the 2017 Costa FLW Series Championship on the big Tennessee River reservoir.
Hays reports that his first scouting trip produced one keeper ... on one lowly bite on a topwater. It was a cold and windy start to practice, and today's forecast is for more cold, but also more sun and less wind.
The temperature is in the mid-30s at 7 a.m. when Hays idles his Costa Sunglasses boat away from the ramp and turns north to head under the Highway 70 bridge.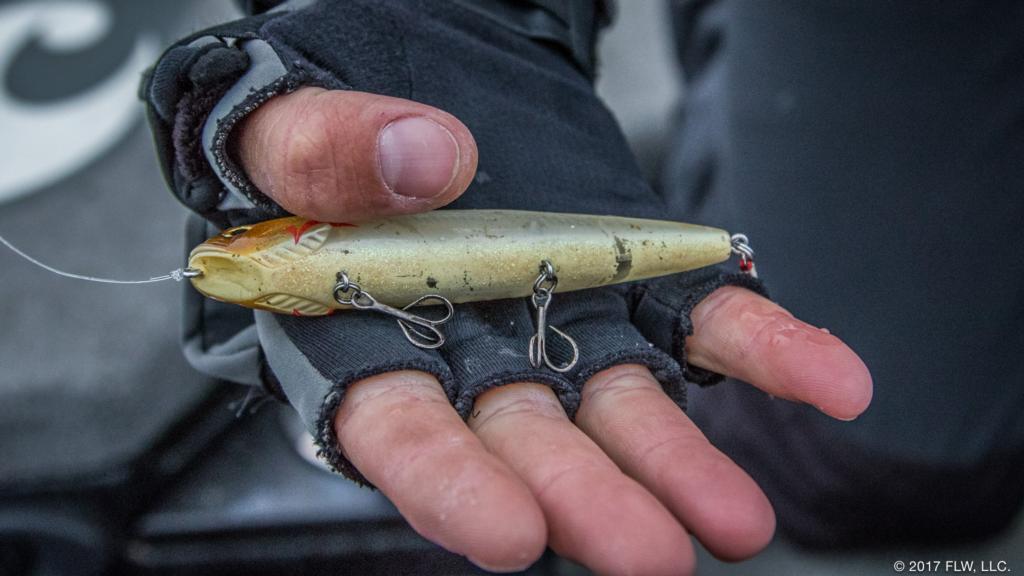 A short run
No one complains about a short run on a crisp morning, and Hays has no reason to complain. He doesn't even get the boat on pad before stopping along the river channel and reaching for a Paycheck Baits Repo Man topwater with the hooks bent over.
"I want to catch them on topwater," Hays says. "That's probably all I'll do."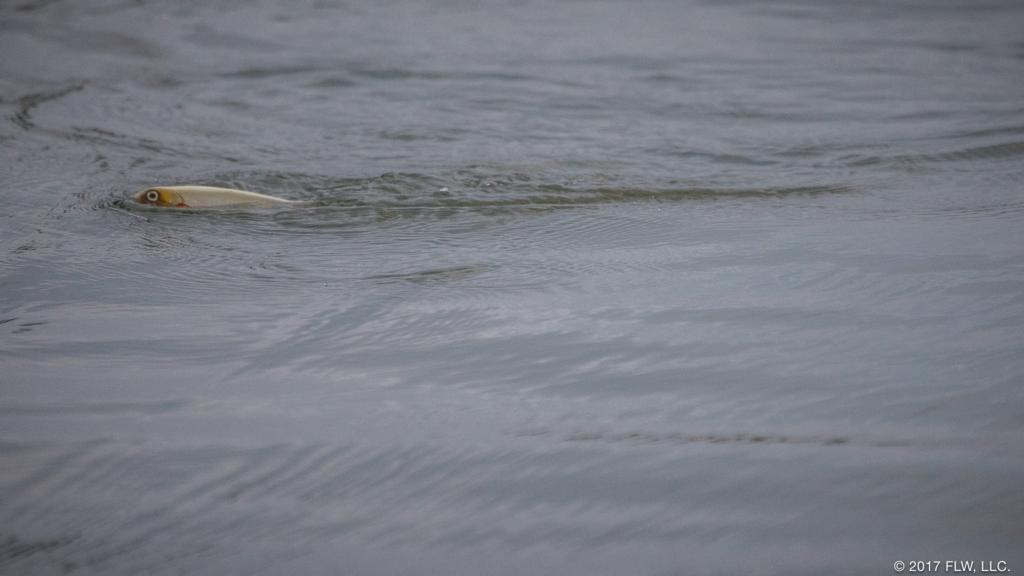 Throwing topwater on Kentucky Lake in the fall is far from a secret. It's one of three or four patterns that win just about every tournament on the lake from September until winter. The most critical piece of the puzzle for pros to figure out is where the big ones are in their seasonal transition, which on this lake is spurred along by a fall drawdown period.
The Repo Man, with bent hooks and all, is the bait that produced Hays' only keeper the day before. Admittedly, he didn't learn too much on his first day, but that's OK because Hays is nearly starting from scratch in this derby anyway. He's fished Kentucky Lake a few times throughout his career, but mostly as a co-angler. His only recent experience in finding fish on the lake in the fall was a team tournament that he fished in early December 2016, and he came out of that one with a single waypoint worth fishing this time around.
About five minutes after his first cast, Hays convinces a small fish to slash at the bait. He works along a shallow flat adjacent to the channel before easing his way into a creek where his trolling motor stirs up sediment on the bottom each time he turns the boat. Hays spends about 45 minutes here and gets one more weak bite before strapping down a half-dozen or so rods and moving back out to the river channel.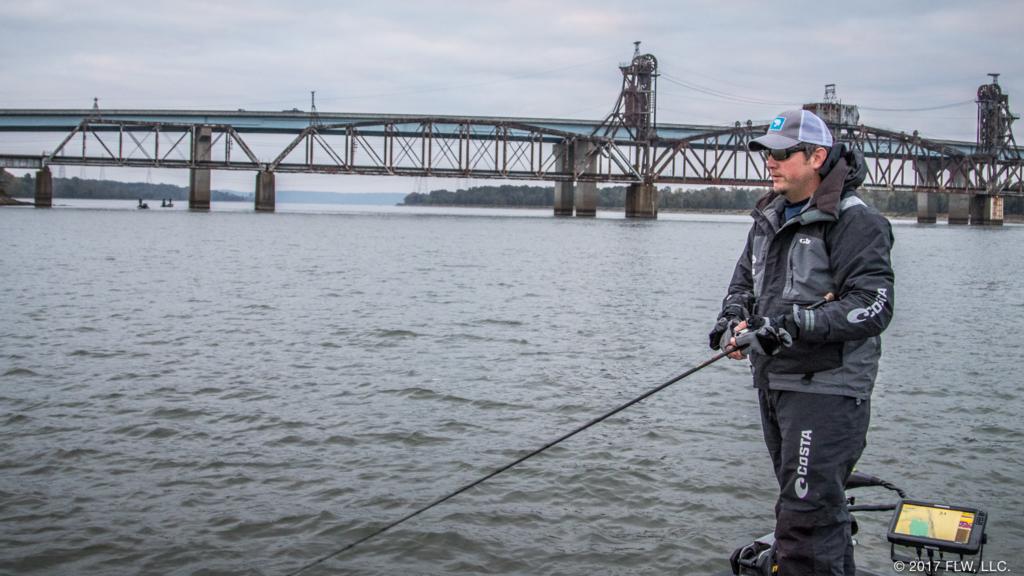 Sticking with topwater
2017 has been a milestone year for Hays. After quitting his job at an Arkansas paper mill back in January, Hays went out on the FLW Tour in his rookie campaign, earning a couple of checks and suffering two bombs that cost him a shot at fishing the Forrest Wood Cup.
But he's also been more active than ever at the Costa FLW Series level. Hays' original plan was to fish the Southwestern Division, but after a disappointing 76th-place finish at the Tour finale at the Potomac he wasn't ready to hang it up for the season. Instead, he decided to give it a shot at the Northern Division opener on Lake Champlain to gain some experience fishing for Northern smallmouths. Hays left Champlain with a check, and from there he continued his smallmouth education at 1000 Islands before taking another crack at the Potomac in the Northern Division finale. He finished up in 10th place in the AOY standings. A 12th-place finish in the Southwestern Division double-qualified him for this week's championship. 
Now, he's trying to fish his way to the 2018 Forrest Wood Cup on Lake Ouachita, a lake just an hour from his Sheridan, Ark., home where he has quite a lot of experience. He also won't be going it alone in this derby. Hays' wife, Melinda, also qualified for the championship as a co-angler, and she'll be making her way to Tennessee in a few days.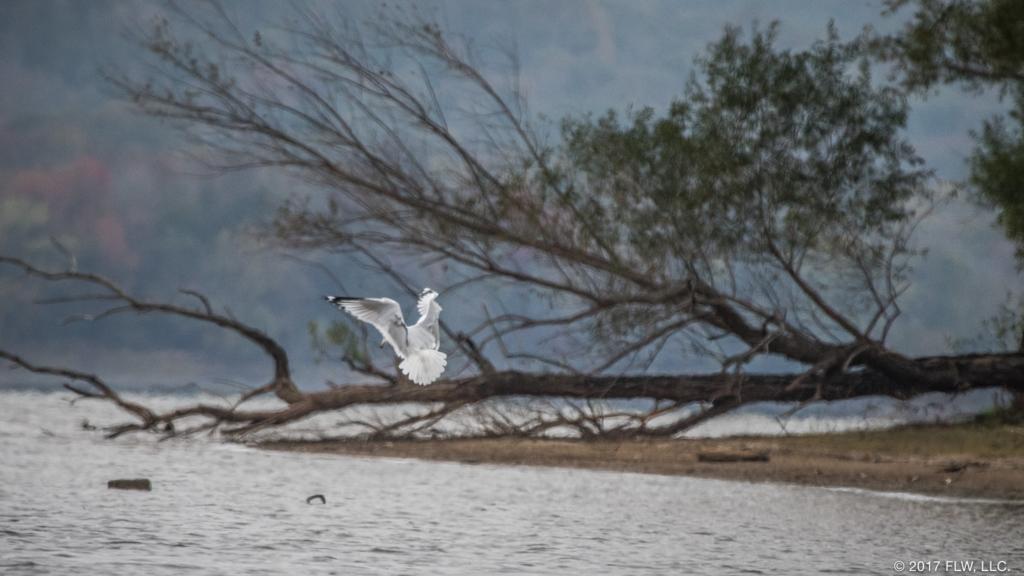 On a main-lake bar on the opposite side of the channel, Hays sees plenty he likes. A gull is crashing bait, the water's dirtier than where he fished up north the day before and he can see the current flowing by a nearby channel marker buoy.
It should be right, but Hays works along the bar for another 30 minutes or so before he finally gets another bite. It's obviously a small fish, even though he doesn't hook it.
"Usually you don't catch many little ones," he says of his shallow-water topwater approach. "Maybe because it's the second day after a front they're not mad at it yet. They're so spread out [in the fall] that most of the time you just have to cover a lot of water."
At around 8:30, he tries to get something going by swapping the Repo Man for a River2Sea Whopper Plopper. A few casts later, a gizzard shad swirls around the Plopper and gets temporarily hooked before pulling loose.
Seeing big gizzards in the area is a good sign, but the Plopper only gets about 10 minutes of play before Hays swaps back to a walking bait. He spends another 10 minutes on the bar and then idles along to another stretch.
Hays might seem a little stubborn for sticking with the topwater, but he's fishing with foresight. The weather forecast is calling for an increase in temperature during tournament week, and he suspects the topwater bite will turn on again. The water temperature is still around 64 degrees, so his suspicions are reasonable.
Eventually, Hays picks up his third topwater bait – a pencil popper – and fires away.
"I'm gonna find this bite," he says. "It might take me all week. I'm probably making this too difficult. It shouldn't be this difficult."
About that time, Hays spots a swirl up in just inches of water.
"Look, look, look," he says. "That's what I've been looking for this whole time."
He fires in, works his bait and can't even get a sniff.
"Huh … that's disheartening."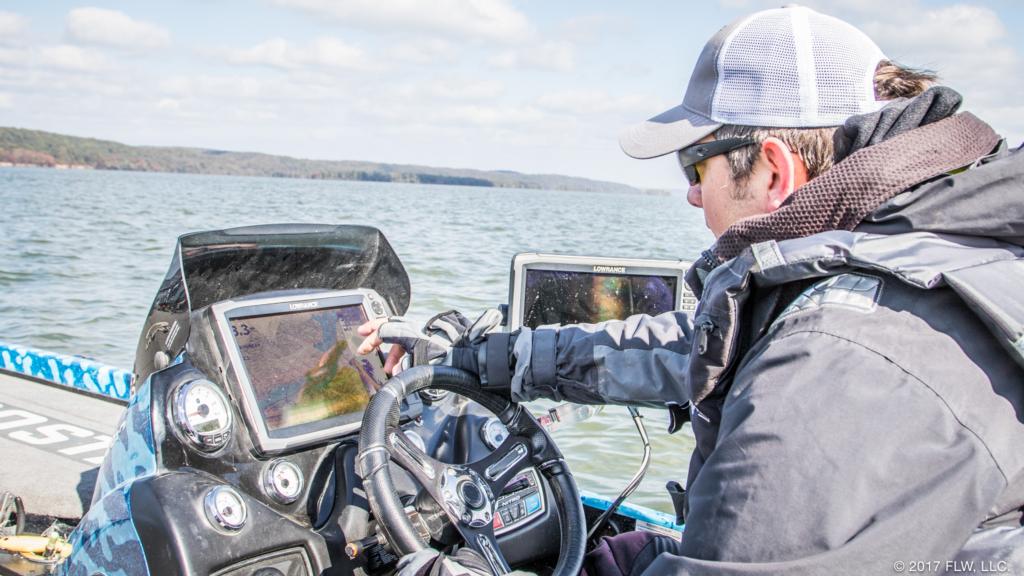 Moving to a memory
It's about 9:30 before Hays has had enough of the main-lake bar game.
"I've about decided the fish don't live here," he says. "I wish I could get a couple bites so I could just roll with it. Or something so I can narrow it down a little bit."
That in mind, he rolls across to the opposite side of the river channel to try something new.
"I don't think it matters what topwater you throw," he adds. "I think if a fish is up there in a foot of water, he's up there for one reason … even though I have five topwaters tied on."
His next move is to a point near the mouth of a creek. He gets a bite pretty quickly on the Repo Man with the bent hooks.
"It wasn't that impressive. I'm waiting for one to eat it. But I could've caught that one," he says.
A few minutes later, fellow pro Billy McDonald idles up to Hays' boat. He's there to expand Hays' topwater arsenal and delivers a big Evergreen Shower Blows pencil popper that Hays ordered from Evan Barnes, whose family owns a tackle shop back in Arkansas.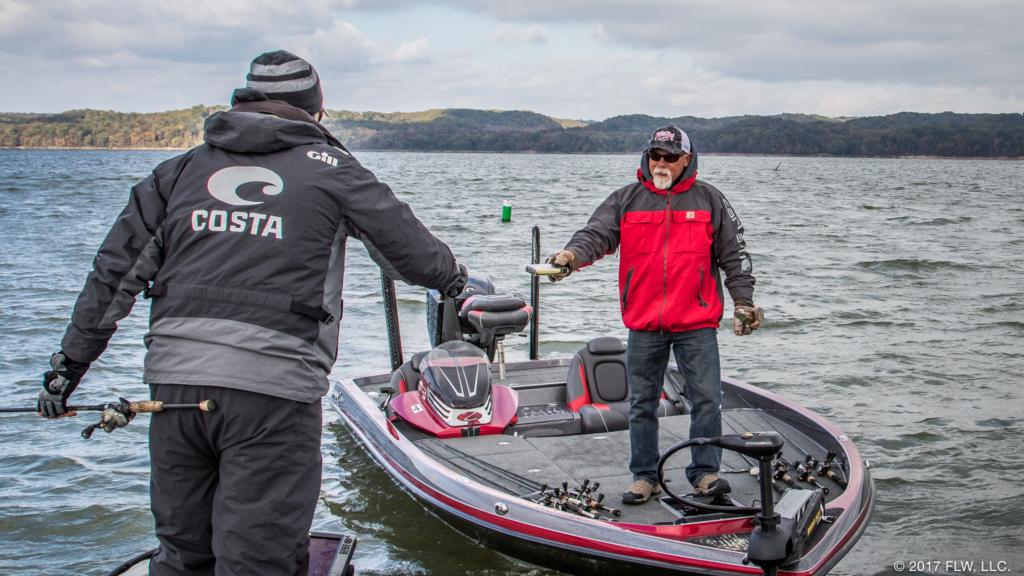 Hays slings a variety of topwater baits around the point and an adjacent pocket – the spot he fished last fall with decent success. He even works in a spinnerbait.
It's the Whopper Plopper that finally connects on a small fish that was hunkered down in a laydown. Hays shows off the runt for a photo, fires again and gets another slash near a smaller piece of wood.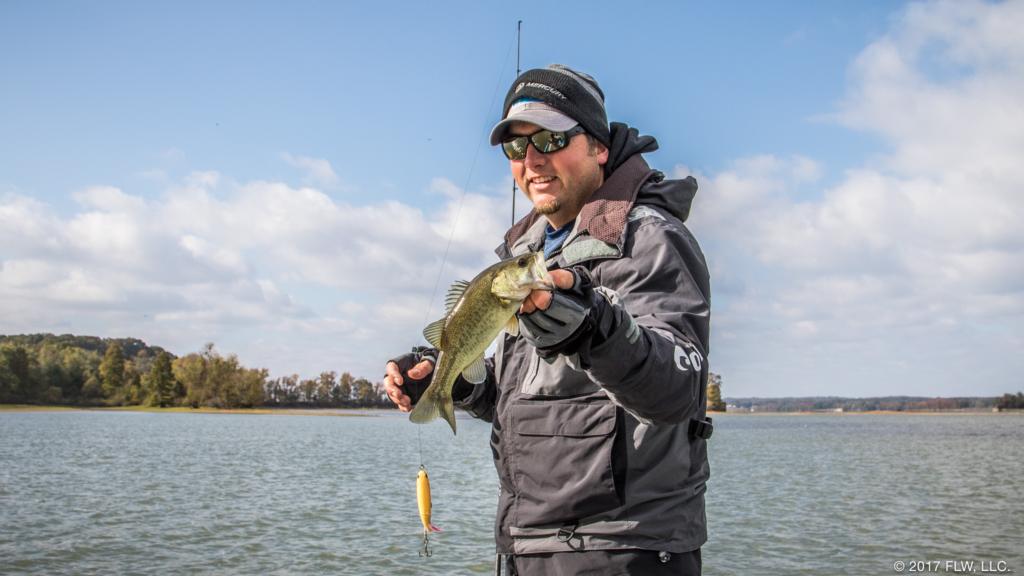 Finding his way
The pocket Hays is fishing is protected by a narrow island and divided by a shallow ridge that Hays can't troll across. But he wants into the back of it.
At winter pool, Kentucky Lake is so shallow that access into this type of area isn't always easy. He has to scrounge around awhile to figure out how to get around the island and over the bar. He takes his time and spends about two hours picking apart every bit of shoreline, eventually finding his way back to where he fished last season in the back of the pocket.  
Along the way, he experiments some more, trying a much slower walking retrieve – it worked for him last year – and working the splashy jumbo Shower Blows.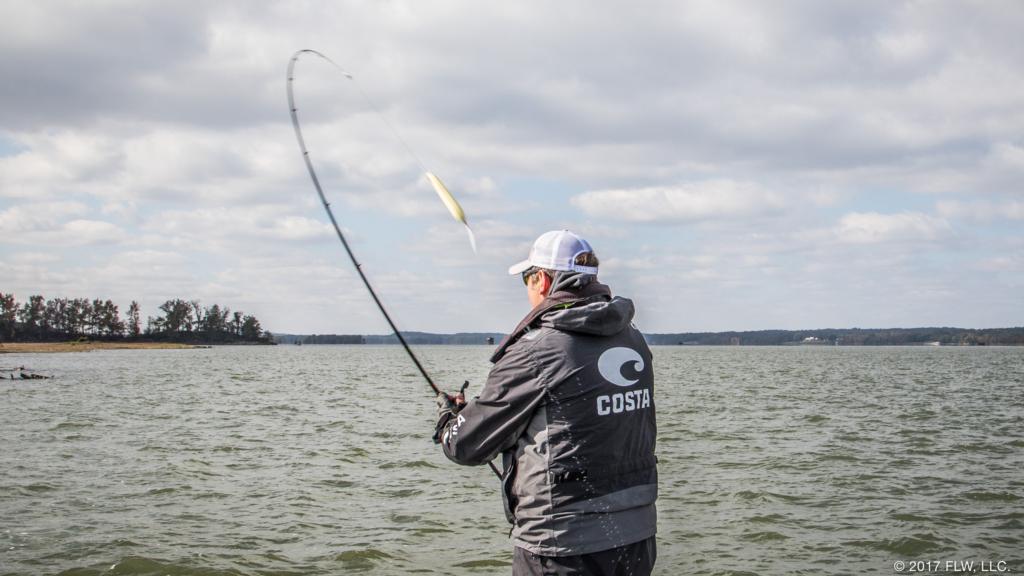 The spot doesn't even produce a bite.
"I'm trying not to fish too much history, but I wanted to check it out," he says of the spot. "I saw a shad flicker. Last time there was a ton of shad. It's so calm in here that you could see them ball up real good."
By noon, Hays is still scratching his head. He believes he's still on the right track for quality keepers, but without a solid bite to show for it, he's not sure where to turn next.
"I know they live out here on these bars," he adds.
His plan is to move to a section of the main lake a few miles to the north and spend a couple of hours picking the area apart before reversing course and heading upstream to Kentucky Lake's more riverine portions. I've got photos to process, so before he heads north, Hays hauls me back to the ramp.
He's still as calm as can be. Confident, really, despite the slow action. He seems to know he's on the right track. It's just a matter of time and effort to get a few bites and begin deciphering a pattern that could give him a shot at the Forrest Wood Cup.